Fort Worth, Texas has a very dear spot in my heart since it is where I was born and spent a majority of my childhood growing up. Though it's been well over a decade since I have lived there, something about going back always feels like home. So when my best friend N decided to have her bachelorette party there, I was over the moon!
Friday afternoon another friend C met me right after I left work and we made the 5.5 hour drive to meet the rest of the group. 12 girls in all - some I had met and a few that were new faces.
Photo Courtesy of www.eatsblog.dallasnews.com
After getting cleaned up, we jumped into a couple of taxis and headed to The Woodshed Smokehouse which features almost any type of meat you want along with an impressive selection of beers and other cocktails. Even dogs are welcome on the huge patio! The only downside was the weather - it was misty and chilly and very few of us had the foresight to pack for the conditions.
On Saturday after a quick stop to Target to pick up some warmer clothes, our group headed to Cowtown Cycle Party. I'll be completely honest - I was maybe just a little bit dreading this because I haven't really pedaled anything in forever and I worried about falling off and really just couldn't imagine what this was going to be like. Below is my "I'm smiling because I'm a little nervous but I don't want you to know that" face.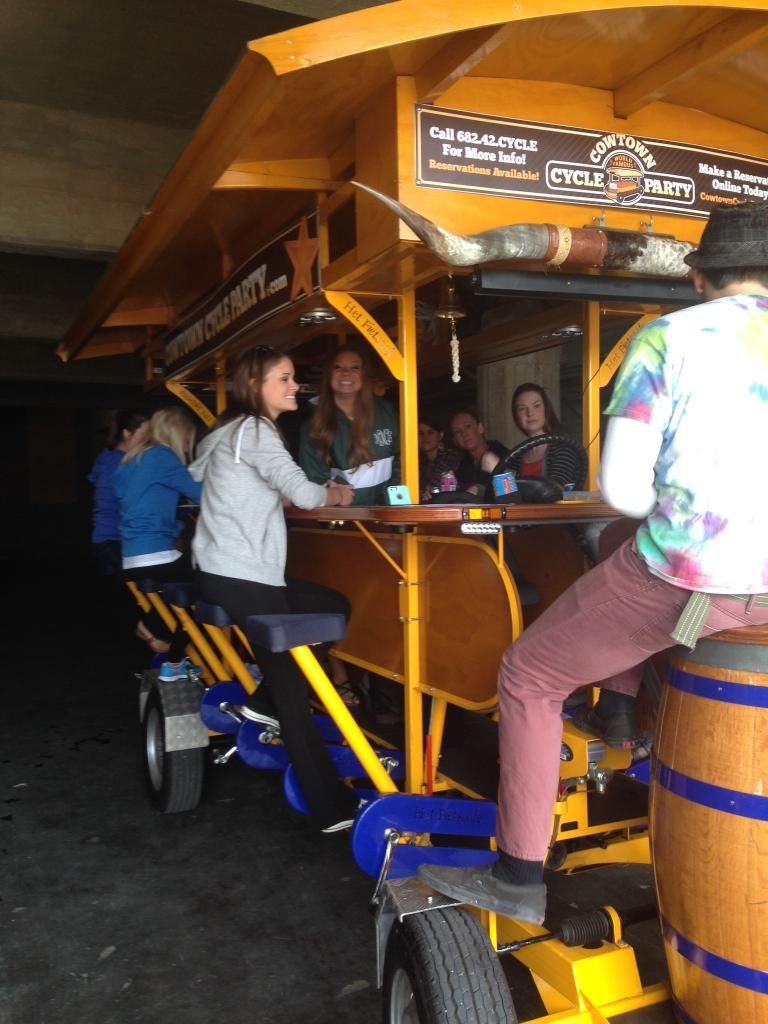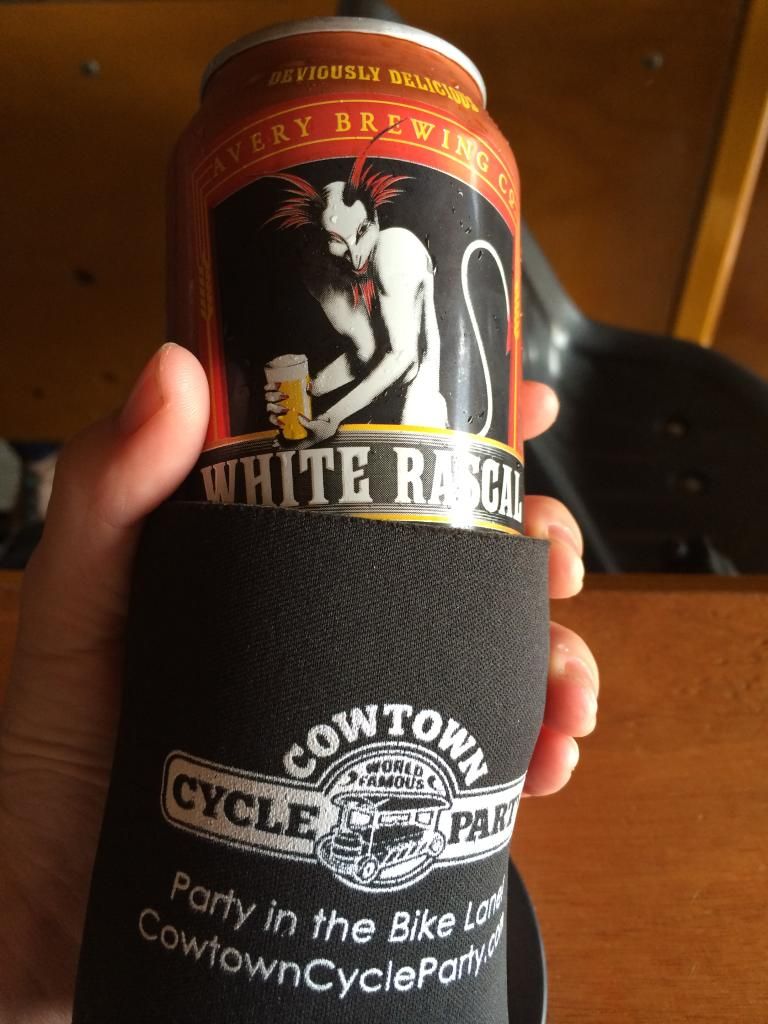 Well. It was amazing. We had the funniest driver, great music blaring, lots of beer (which made the pedaling SO much easier, who knew?), and it was contagious seeing people on the side of the street and in their cars and restaurants getting such a kick out of watching us slooowwwly pedal up the street. We stopped at a few different bars for people to take shots, danced while pedaling up and down the street and really just had a great time. I've been talking about it nonstop ever since!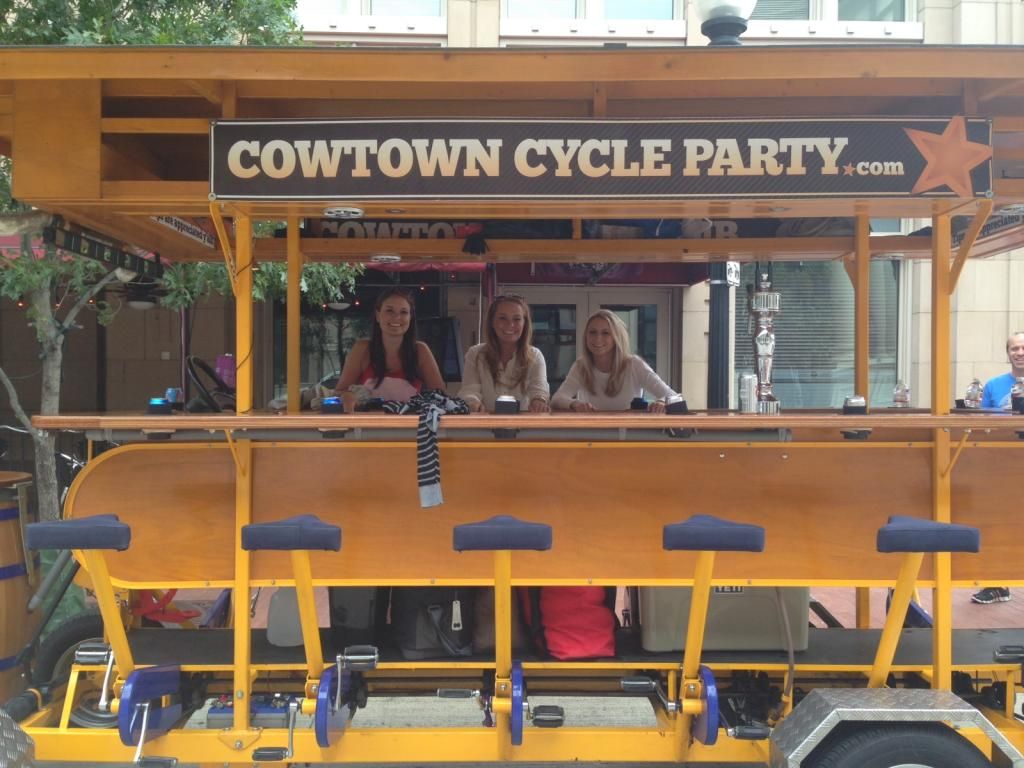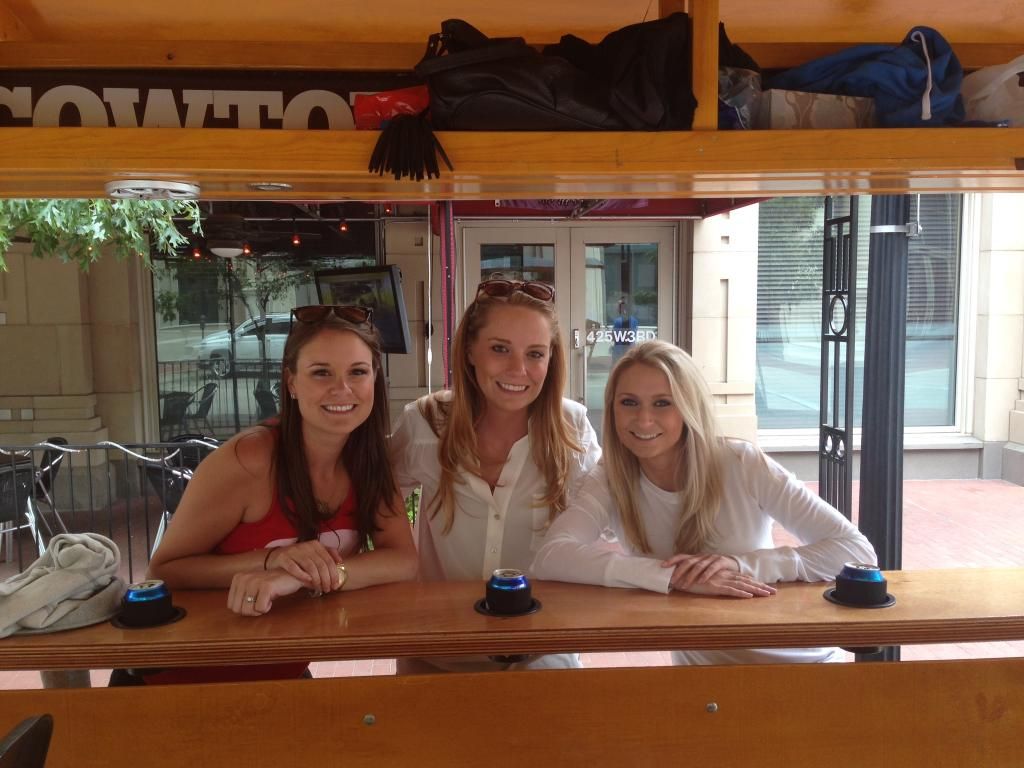 I've always loved how we are brunette - ginger - blonde. Two of my favorites!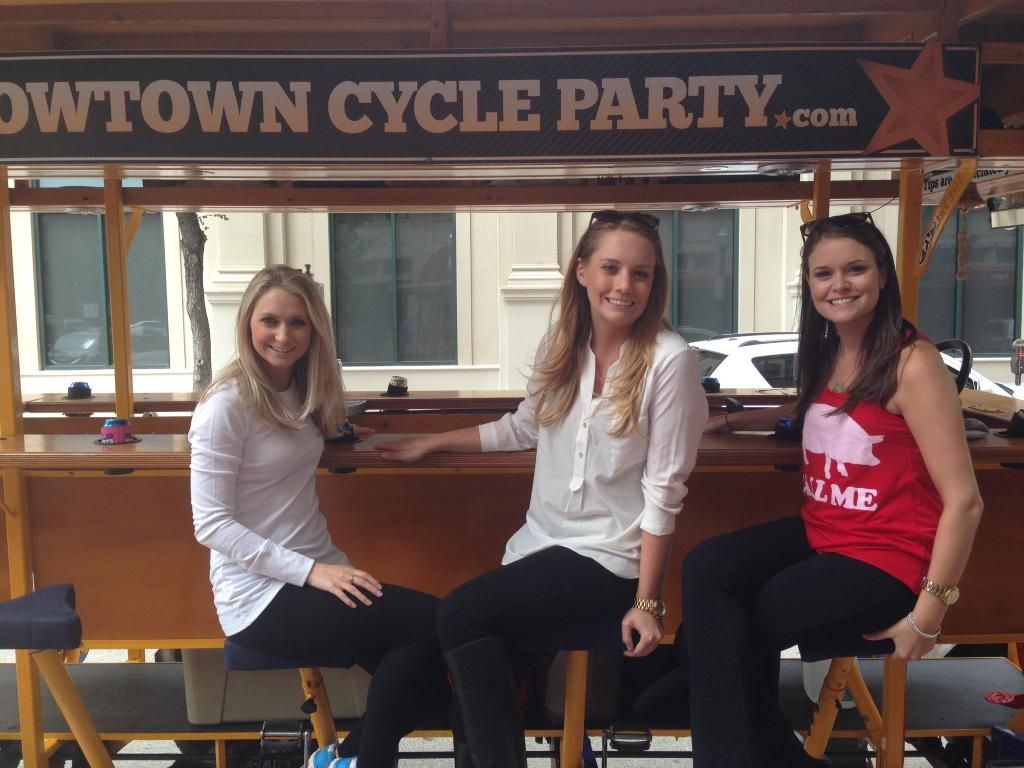 Our last stop! That's the Bachelorette out in front. Love these girls! If you are in the DFW area and decide to give it a whirl, ask for Roger (aka Raja!) - he was the best driver!
After another round of putting ourselves back together it was time for the lingerie shower. I'll spare the pictures for the sake of N (who is always a GREAT sport!) but my favorite were the masks.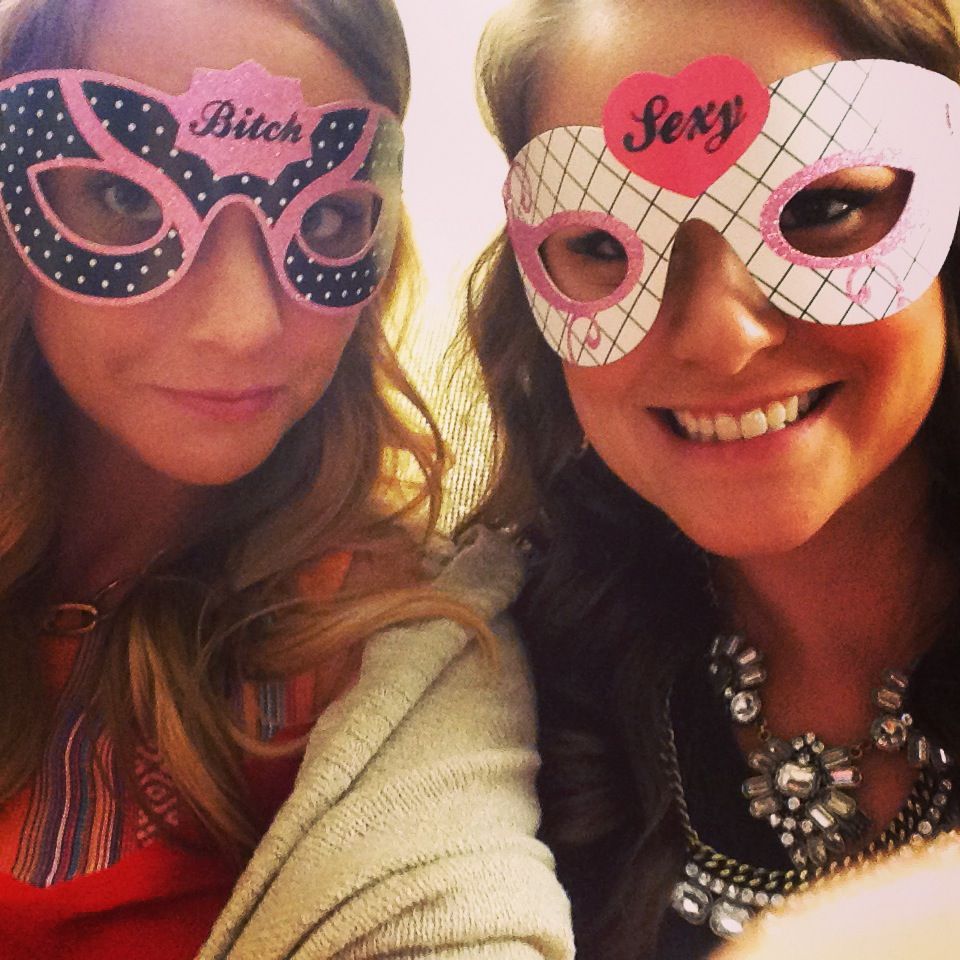 It was so much fun reconnecting with my best friends - I hate being so spread out but distance doesn't phase us once we're all reunited.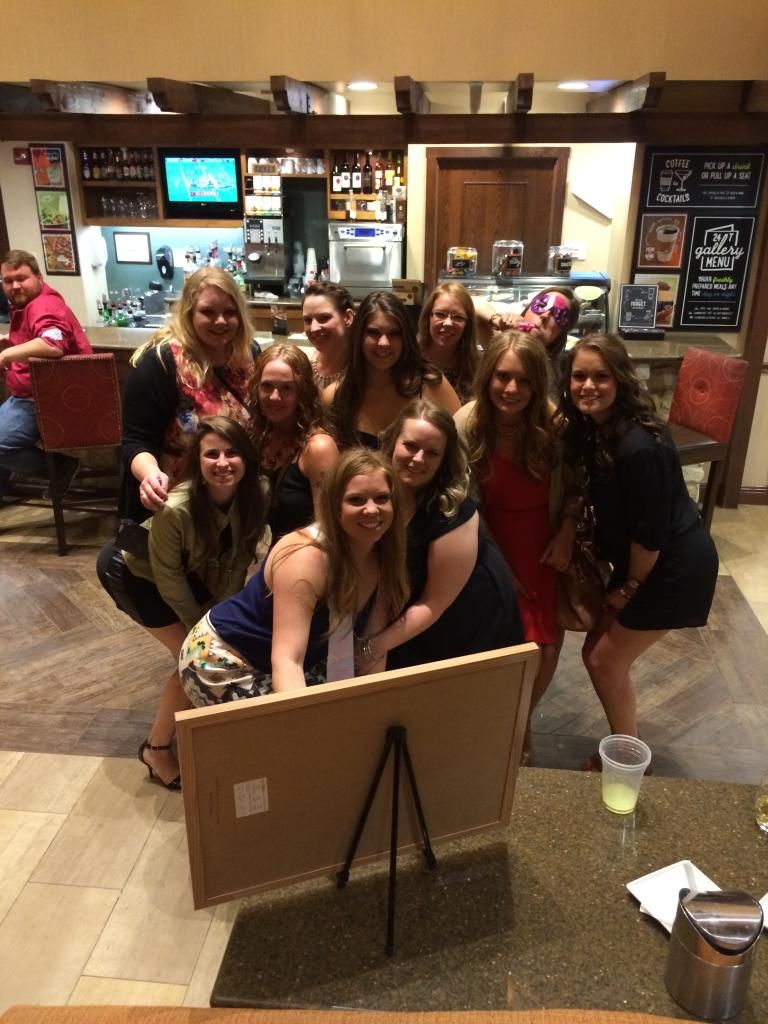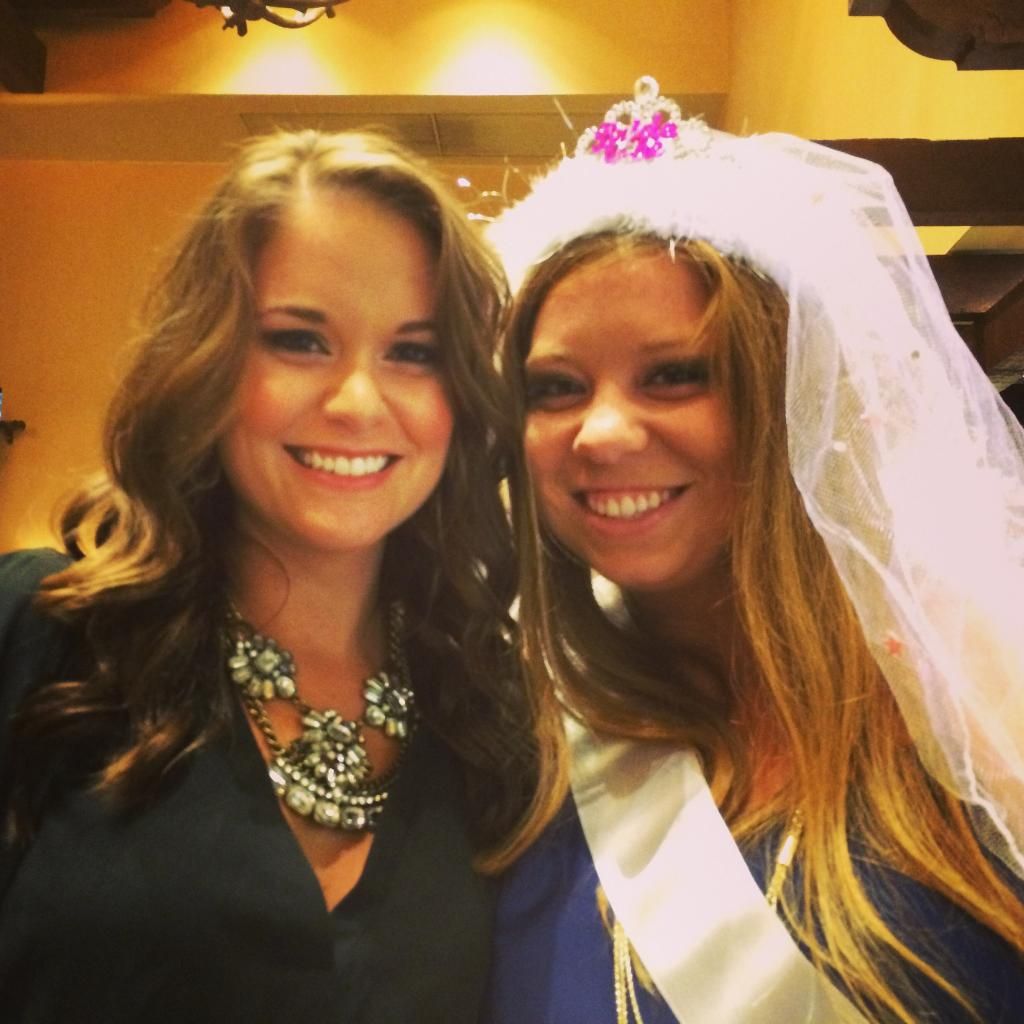 Our hotel lobby had a guitarist playing as we waited for our shuttle where we danced and sang along to some of our favorite songs.
Once our designated driver showed up we headed to one of my all time favorite restaurants - Grace. Please believe me if you pass through Fort Worth and need a great dinner spot, please stop in. You will not be disappointed!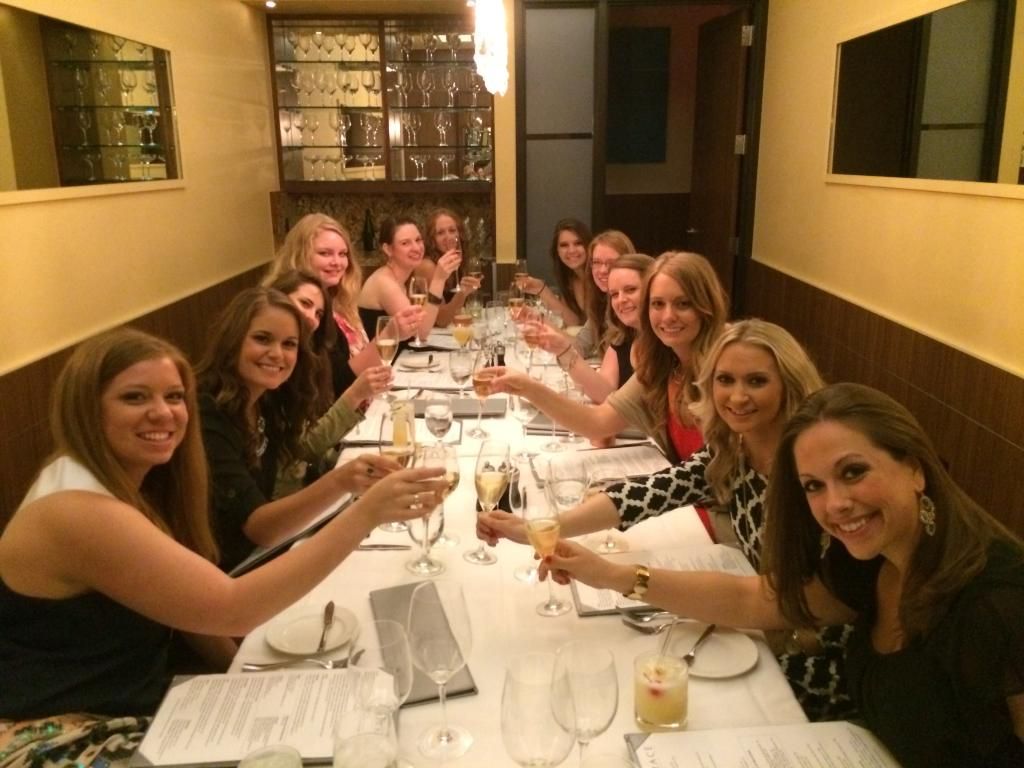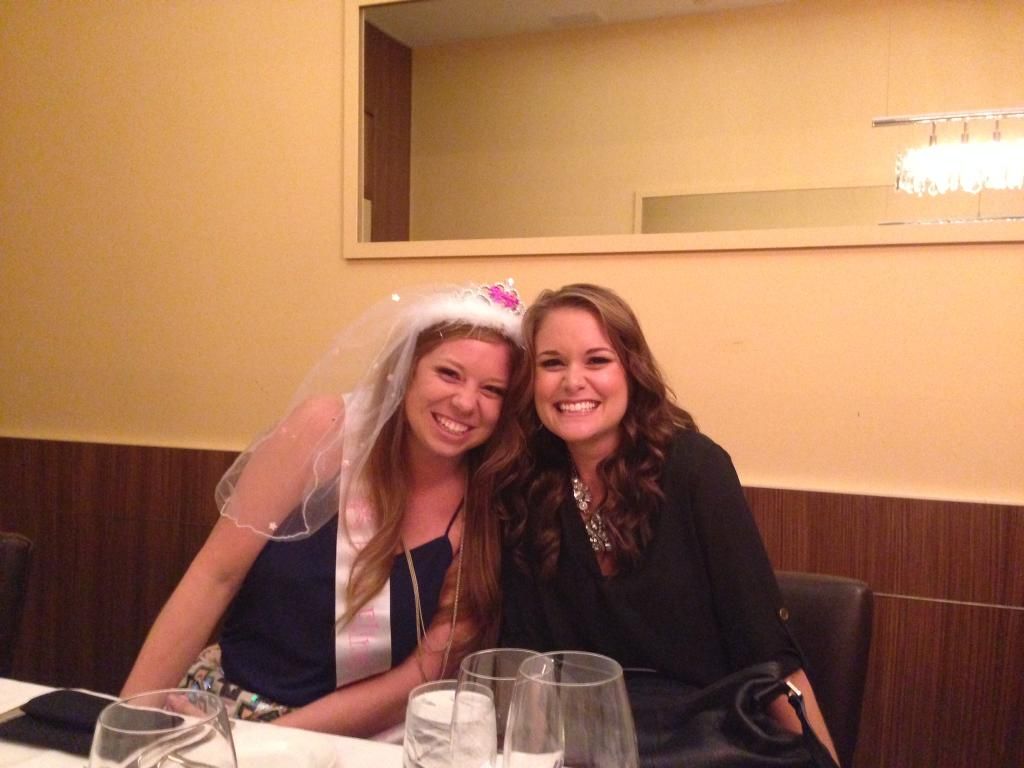 I couldn't get enough pictures with our guest of honor! One of the most fun and genuine people I know.
After dinner it was more bar hopping, drinks, and the taxi ride home recapping the highlights of the weekend. I absolutely love these girls and I can't wait to reconnect in a few short weeks to celebrate N's wedding!
While the last few weeks have been fun, I would be remiss if I didn't admit that I'm really happy to be home with no plans in the foreseeable future. My DVR and the Mooser were starting to have separation anxiety I think!