It's been an eventful weekend. EH and I ventured out Friday night to meet some friends for dinner at Ciao Bacci, followed by lots of drinks at the Fountain. Though I feel like we are always doing something, it's pretty rare for us to stay up as late as we did. Fun! But we paid for it yesterday.
After finally powering through the dreaded mid-20's two day hangover, Mother's Day we woke up bright eyed and feeling tons better. We headed to EH's hometown to see my in-laws, Grandmother-in-law and Sister-in-law for a Mother's day lunch. It was extra special because my sister-in-law is having her second little girl this Wednesday!!
Back at our homestead, I decided to put together one of EH's favorite dinner dishes. Poor guy did five hours of yard work yesterday, and came home today to do some wood working and now he's finishing up a project for work, so I know he is pretty wiped out.
EH loves chicken caesar salads, so when I read this recipe for homemade caesar dressing from The Pioneer Woman, I knew this would be right up his ally.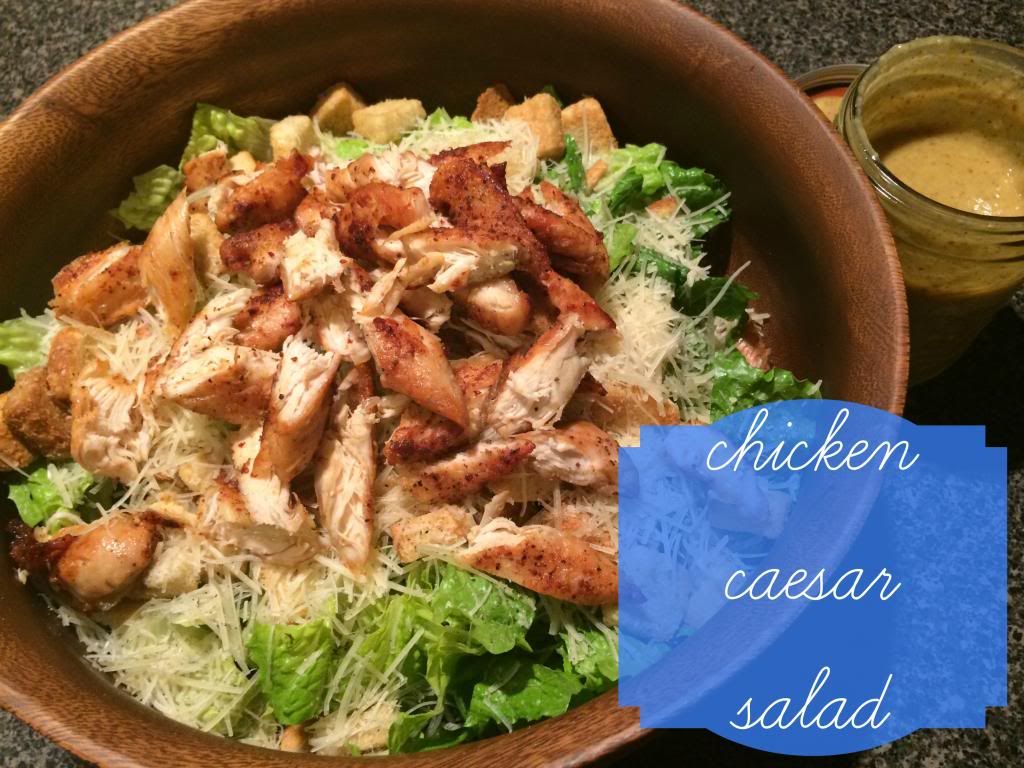 So here is what I do, which is really following The Pioneer Woman's recipe word for word.
What you'll need:
2 large cloves of garlic

4 anchovy fillets (you'll find them near the canned tuna & chicken)

2-3 Tbs Dijon Mustard (I get the Private Selection Garlic Dijon Mustard - very grainy and sooooo good!)

1 Tbs balsamic vinegar

Juice of 1/2 lemon

1 tsp worcestershire sauce

1/2 cup olive oil

Little bit of salt

Little bit more of pepper

1/4 cup grated/shredded parmesan cheese
Start by pulsing the garlic, anchovy fillets, dijon mustard, lemon juice, worcestershire, and balsamic. Stop every now and then to scrape the sides.
Once that is good and mixed, turn the food processor on low and slowly pour in the olive oil. Stop to scrape the sides and give it good mix.
Finally, add a little salt and plenty of black pepper and the parmesan cheese. Pulse until it's all good and combined and smelling delicious like you want to smear it all over your face.
Or..until it's ready to pour into a jar and refrigerate for a couple of hours.
When you're getting close to starving, cook up some chicken (I cook mine on the stove top in a whole mess of butter and olive oil). Once they're done, slick them into big hunks and toss with big crunchy pieces of romaine, some croutons (I cheat and buy the bagged kind) and plenty of parmesan cheese and your delicious caesar dressing.
Here's what ours looked like all put together. It looks like a lot of dressing, but once you toss everything together it coats everything perfectly. I hope you enjoy!
And to all the wonderful and fabulous Mother's out there - I hope you had a wonderful day!