I've been hearing about a new local brewery here in Little Rock for a few weeks now, and finally this weekend Engineer Husband and I decided to stop in and check it out.
Located in history MacArthur Park near downtown, Stone's Throw Brewery is the brain child of four Little Rock residents who met in a local home brew club. Through the support of family and friends, and even strangers through the Kickstarter program, Little Rock now has this unique brewery to call it's own.
Photo Courtesy of Arkansas Times
Though not much on the outside, once you enter in it's pretty quaint. And on a Saturday night it was pretty hopping. Thankfully it was easy enough to find two seats at the small wrap around bar.
As we entered, they were beginning a tour of the facilities. Unfortunately we were in a time crunch to get to dinner, but it's something we definitely want to check out next time.
Stone's Throw offers 8 beers on tap, two from their own brewery and six guest spots (Diamond Bear, another great local brewery was featured), all that you can keep up to date on with their website. We tried the Stout and the Pale Ale, both of which were really good! Both darker than I expected, but not so dark that the faint of heart would turn up their nose.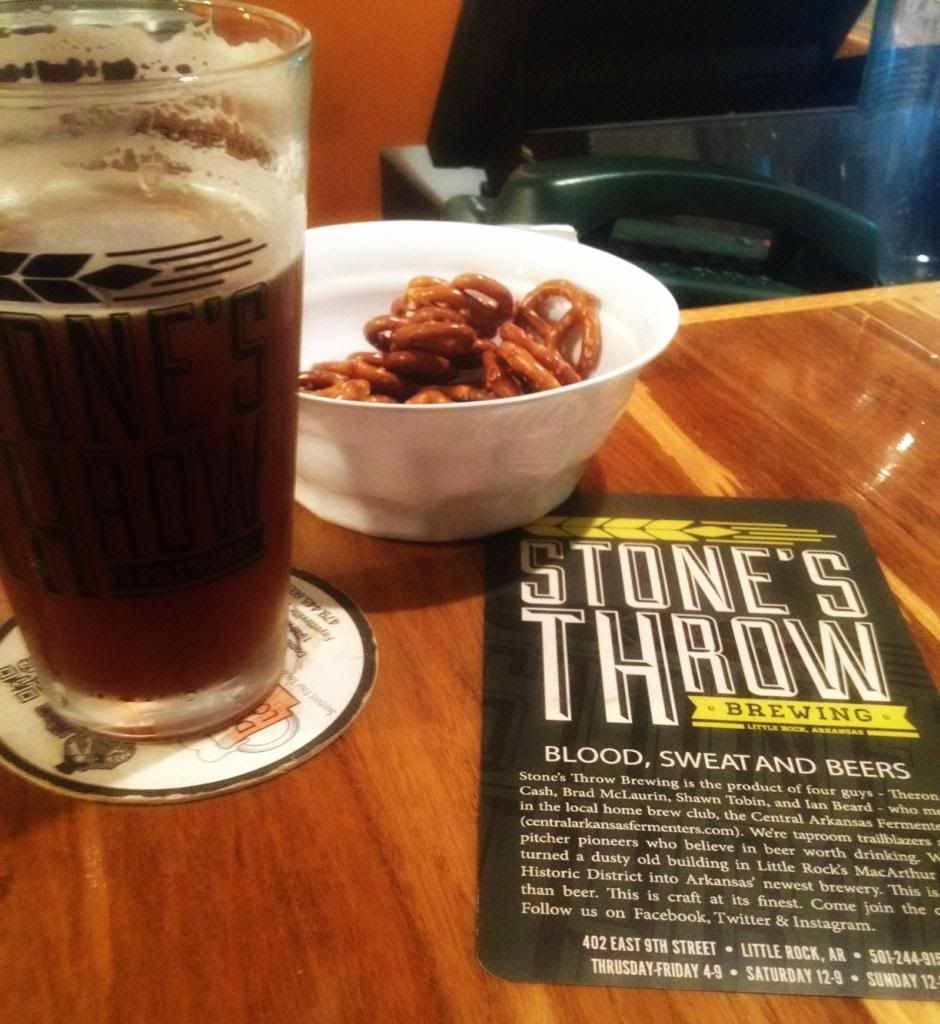 And while Stone's Throw doesn't haven an in-house kitchen, they make sure you're taken care of if your stomach starts rumbling. No, not the bowl of pretzels, but food trucks!
Food trucks have recently started becoming the new it thing, and Little Rock is not lacking. On Saturday they featured a waffle truck - complete with a Southern favorite - chicken and waffles!
You can also buy the growler's and fill up on your favorite beer to take home and enjoy.
Photo Courtesy of KickStarter Website
So for all you locals, make sure and stop by Stone's Throw for a fantastic brew. Their hours are a little strange, but as their popularity grows I imagine they'll start opening up more. Make the time to pop in! I think it will become your favorite regular spot soon.
Stone's Throw Brewery
401 E. 9th St.
Little Rock, AR 72202
www.stonesthrowbeer.com
Let me know if you get a chance to stop by and what you think! I know you won't be disappointed.